I don't know if anyone here is a fan of Scandal, but I used to love the show.
Aside from the Olivia and Fitz affair, something I loved about the show was that Olivia always ate a huge bowl of popcorn and a big glass of red wine for dinner. I know I shouldn't need a TV show to validate my dinner choices, but if an uber-successful woman in Washington D.C can have popcorn for dinner, surely it's ok for me to do the same?
I don't always have the wine, but popcorn for dinner is a favourite of mine, so I've played around with a lot of flavour combos over the years.
It used to be just straight-up butter and some salt, but I've since evolved.
After I got bored of the classic butter and salt combo, I started playing around by adding different flavours and spices to my popcorn. For a long time, I used to take fajita seasoning and sprinkle that on my buttered popcorn for a spicy, slightly sweet combo which is also insanely good.
Another great idea is grating some parmesan cheese on top of your hot popcorn – very Italian 🙂
My new go-to is brown butter black pepper popcorn. This has been my top favourite popcorn flavour for the last couple of years, so I decided it was time to share!
There's something about brown butter that just layers in the flavour and makes anything it touches so much more complex. Offset the rich, nutty brown butter with spicy black pepper and a generous pinch of salt and you've got a surprisingly amazing, yet delicious popcorn flavour. I often associate brown butter with fancy pastry or pasta dishes, but it works surprisingly well on this low-brow snack!
I use popcorn kernels and pop them on the stove to make this popcorn and I highly recommend that you do the same. After moving out of my parent's house I've always lived in apartments that didn't have microwaves so I was forced to start popping popcorn on the stove. Turns out, this was the best thing that could have happened to me because stovetop popcorn is so much better! While you could do it with popcorn from a bag that you make in the microwave, I find that it just doesn't taste as fresh, plus you have all kinds of chemicals and additives in there. If you do it on the stovetop you can control all the ingredients that go in your popcorn as well as the amount of salt which I know is a big one for a lot of people. Also, I know microwave popcorn is labelled as "buttered" but nothing beats real butter so please please take the time to make this on the stove. Trust me, you won't regret it!
As most great inventions do, this came about by accident. I was melting butter and left it on the stove too long so it started to brown. I don't remember when I decided to throw the pepper in there, but it's a welcome addition to this popcorn.
I highly recommend trying for your next movie night – or meal if you also believe that popcorn is acceptable for dinner – it just might become your new favourite too!
My only word of caution is to make sure that you keep an eye on this popcorn when you're making it. The butter is one of those things where you'll feel like you're watching it and nothing happens and then as soon as you turn your back it's turned black. So just keep an eye on the butter and pay special attention when it starts to foam!
Actually, I have 2 words of caution. I use salted butter in this recipe because that's what I always have on hand in the fridge. So, the first time you make it maybe be a little more conservative with the salt and taste as you go. Start with a little and add more as needed. There's nothing worse than something that's too salty to eat!
If you make the popcorn, please let me know what you think in the comments, or let me know what your favourite popcorn flavour is!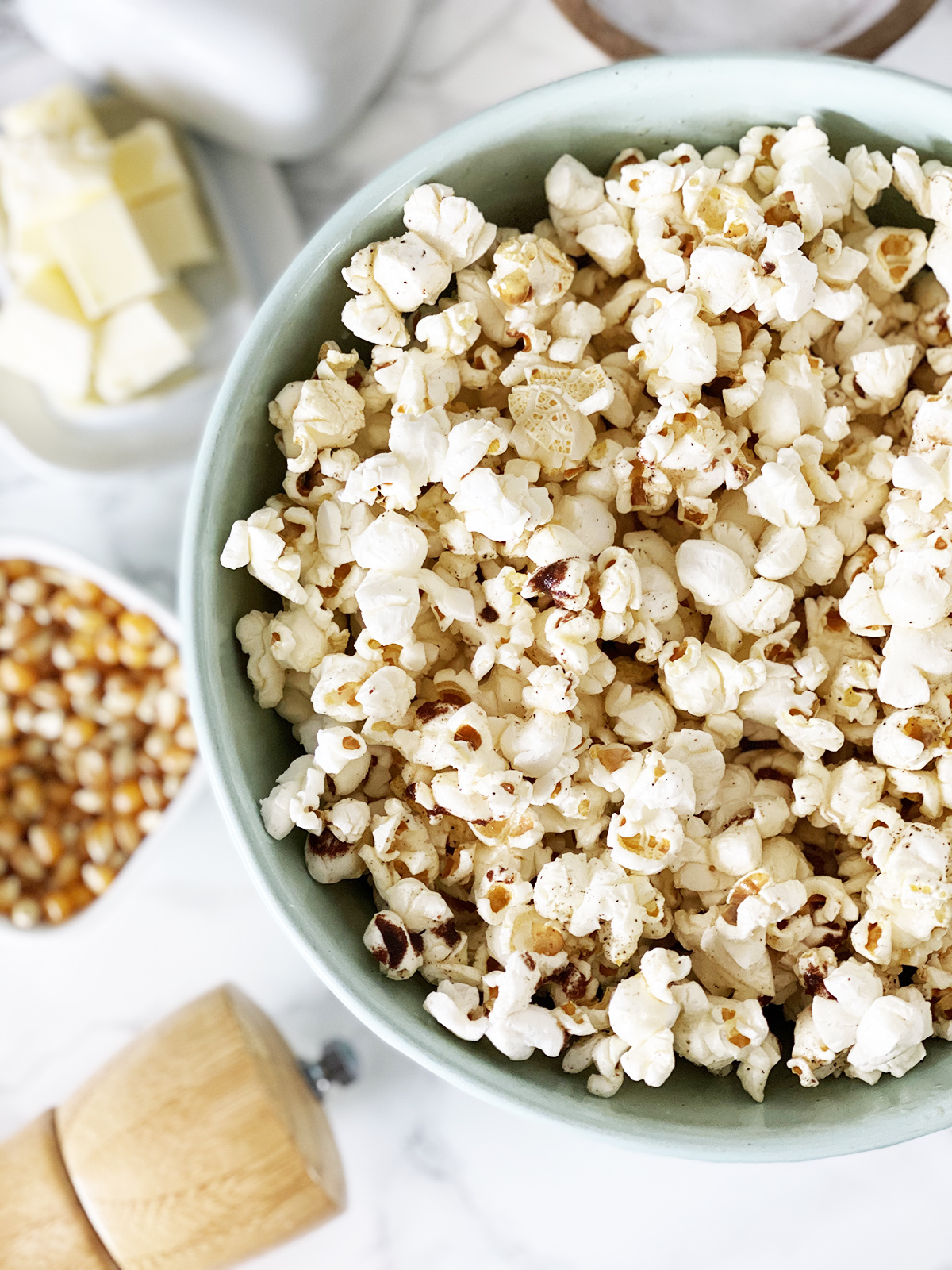 Brown Butter & Black Pepper Popcorn
Rich and nutty brown butter is the perfect complement to spicy black pepper in this elevated take on a classic movie snack.
Ingredients
1/4

cup

salted butter

2

tablespoons

vegetable oil

1/3

cup

popcorn kernels

9-12

cranks of fresh cracked black pepper

1/4 - 1/2

teaspoon

salt

I use kosher, but table salt is fine as well
Instructions
Melt your butter in a small saucepan over medium heat

Once the butter is melted, continue to keep on the heat until it foams and then starts to darken in colour, while giving off a nutty aroma. You want it to be kind of the colour of caramel, but no darker than that or it will start to burn.

Take the brown butter off the heat and set aside

Meanwhile, in a large pot heat the vegetable oil over medium-high heat.

Add 3-4 kernels to the oil.

Once those kernels pop, you know your oil is hot enough to cook the popcorn, so add the remaining kernels to the pot and cover leaving the lid slightly askew for steam to escape

Move your pot back and forth over the element as the kernels pop.

It should only take about 30 seconds or so for all your kernels to pop. Once the rate of popping has gone down and you only hear about 2 every second, you can take the popcorn off the heat.

Immediately dump the popcorn into a large bowl.

Start by drizzling 1/3 of the brown butter over the top of the popcorn followed by about 3-4 cranks of freshly cracked black pepper and an even sprinkling of salt.

Hold your bowl with both hands and gently toss the popcorn so that you have a fresh layer on top. Repeat the brown butter/pepper/salt process.

Toss the popcorn again using your last 3rd of butter and more salt and pepper.

Enjoy!
Notes
You could do this with popcorn that you've popped in the microwave, but just be aware of the salt and butter content that might already be on that popcorn. Taste a few kernels first to see how salty they are and scale back on the salt I've suggested if need be.
Let's Be Friends!
Insta | Pinterest | Enews | TikTok