Back before I started blogging and creating recipes, I only made two dips. I mostly made an easy Ro-tel and sour cream dip, and while it is still one of my husband's favorite dips, he got a bit tired of having it every week. So I pulled out some random ingredients and created a cheesy bean dip that we both fell in love with. And after making it a few times, I finally wrote the recipe down on paper and swore I was going to make this one of my first blog recipes.
Here we are almost 3 years later, and I realized I've never shared the recipe; plus I haven't made it in a while because I've been so busy creating new recipes. But when I went to find it, I couldn't find it anywhere. I think it got lost when we moved.  So this morning, I set to work attempting to recreate the recipe. After more than one attempt, it has been both recreated and perfected!
This Cheesy and Spicy Bean Dip is everything I love about Mexican food, all in one little bowl.
Cheesy and Spicy Bean Dip – the Ingredients
If you make very many Mexican dishes, you might have most of these ingredients on hand. I always keep a can or two of refried beans in my pantry to use for last minute dinners.
You'll need sour cream and shredded cheddar from your refrigerator. If you can freshly shred the cheddar, it'll melt the best and have a better texture than the pre-shredded alternative.
You'll also need 1 can (16 oz) of refried beans, a jar of mild taco sauce, green chili salsa and jalapeno juice from a jarred of pickled jalapenos. If you want to cut the spice, use a can of mild green chilis instead of green chili salsa. If you are bold and daring and want to add spice, you can add a teaspoon of this hot sauce or use a bottle of medium or hot taco sauce in place of the mild.
And don't forget the tortilla chips for dipping!
Making the Bean Dip
Heat a saucepan over medium heat on the stove. Add the can of refried beans. Use a wooden spoon to mash them and stir them as they heat. Once they're partially heated, add the taco sauce, jalapeno juice and green chili salsa. Don't worry if it seems pretty runny when you stir it; it'll thicken up when you add the cheese at the end.
Stir in the sour cream and let the dip heat through. Stir occasionally as it heats to help it heat thoroughly. Make sure the dip is hot before adding the cheese. Sprinkle the cheese over the dip and stir constantly as it melts. Once the cheese is fully melted and combined, remove the dip from the heat immediately. (If you overcook the cheese, it will 'break' and the texture may be rough).
Spoon dip into a serving bowl and top with a drizzle of taco sauce and a spoonful of green chili salsa. Serve alongside copious amounts of tortilla chips for dipping!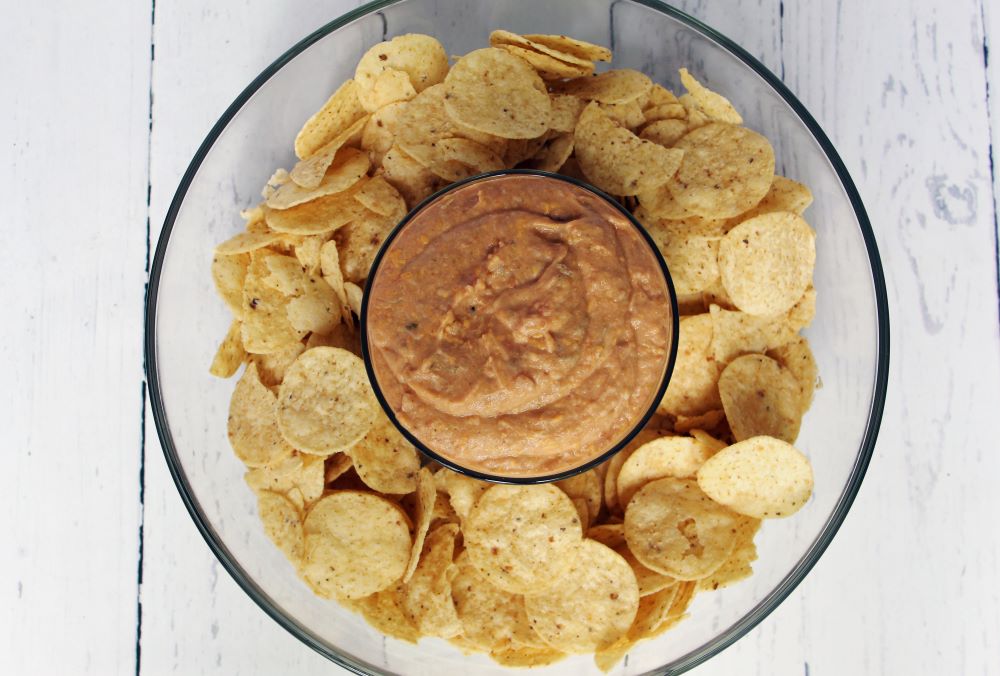 Reheating the Bean Dip
You can reheat the bean dip leftovers in the microwave, stirring every 30 seconds until hot. The best way to reheat the dip – to retain the best texture – is in a saucepan on the stove. Heat over medium-low heat, stirring every couple of minutes, until heated through. If the dip thickened too much while in the refrigerator, add a tablespoon or two of hot sauce to help thin it out.
Other Ways to Use the Cheesy and Spicy Bean Dip
Let's face it: this dip is fabulous as a dip. But there are so many more ways it can be used.
Make loaded nachos: Top tortilla chips with bean dip, cheese sauce, tomatoes and taco meat. Add some queso for over-the-top perfection.
Make taco salads: Top lettuce with dip, taco meat, crushed tortilla chips and your favorite taco toppings, like jalapenos, black beans, or shredded cheese.
Make enchiladas: Spread bean dip down the middle of a tortilla. Top with shredded chicken or ground beef. Sprinkle with shredded cheese and rice, if desired. Roll up and place seam side down in a baking dish. Drizzle taco sauce over the top of the enchiladas. Heat in the oven until hot and delicious!
Cheesy and Spicy Bean Dip
All the best, spicy Mexican flavors combined in one smooth, cheesy dip!
Ingredients
1

can refried beans

1

cup

sour cream

1/3

cup

mild taco sauce

2

cups

shredded cheddar cheese

1/4

cup

green chili salsa

or mild green chilis, if you want to cut the heat

1

tablespoon

jalapeno juice
Instructions
Heat a medium saucepan over medium heat on the stove.

Add contents of one can of refried pans to saucepan. Mash them and stir them as they heat.

Add green chili salsa, taco sauce and jalapeno juice and stir. Let heat through.

Stir in sour cream.

Sprinkle cheddar cheese over the top and gently stir in. As soon as the cheese is melted and combined, remove from heat. Take care not to overheat; overcooked cheese is not good!

Spoon dip into a serving bowl and top with a drizzle of taco sauce and a spoonful of green chili salsa. Serve alongside tortilla chips for dipping. Keep hot; reheat as needed.
Let's Stay Friends!
Insta | Pinterest | Enews | TikTok