Want to learn how to get into the craft fair of your dreams? We asked craft fair organizers from across the country for some quick tips about what they look for in applications. There are some general do's and don'ts. There are basics about good quality photography and professional standards as well as more advanced ideas about what we look for.
And there's also some more advanced tips. All of these is intended for you to get into the events you want to participate in but also make the most of your experience.
Micah Wall of Eville Indie, Edwardsville, IL
Pay your application and booth fees as soon as possible! Never pay late. Organizers have plans for that money, and those plans are usually benefiting our vendors! I include the booth fee and due date on the application so vendors have months to plan. When I have people constantly asking for extensions or paying late, I'm hesitant to accept them back next year.
Talia Halliday of Bloomington Handmade Market, Bloomington IN
Submit a complete application. If we ask for a link to show your work, give us a DIRECT link, don't make us search through all of your blog posts and a listing of your craft shows.
Show us your work! If you make something similar to a million other people out there, somehow make it your own. Whether it's in presentation, booth display, packaging, or personality show us YOU!
Brittany Bly of Pop Shop America, Houston, TX 
When you first get accepted consider yourself there on a trial basis. Working with 120 artists at a time can be challenging so I'm not about to spend all my time catering to 1 artist. If you need help every 5 minutes, try to make us do your work for you, show up to the event and don't remember anything from the exhibitor packet then you are not meeting our professional standards. We have many other artists that also need our help in addition to running the bar, front desk, ATMS, decorations, cleaning crew etc.
And don't even think about arguing with other exhibitors! Why is this a thing that happens? I want to see 100% professional, courteous and mature behavior. Professional standards at your first few events are an absolute must because you are there representing the event. If you are difficult with me, you are likely difficult with customers and patrons. Those that don't display professional standards get cut.
On the other hand, we often have exhibitors that show up early, help out other makers, bring extra supplies like duct tape for their neighbors. Those are the makers that I would do anything for! Have a booth location preference? Done. Want extra social media about your work? Done. What else can I do for you? Because it's done. And I'll do it with a smile and say "thank you" too.
The exhibitors that are a pleasure to work with are the ones that I try to work with the most. The ones that are difficult I avoid like the plague.
Mitch Cohen of First Saturday Arts Market/The Market at Sawyer Yards, Houston TX
I always look for professionalism in the applications. I tend to look at the ones that do follow our instructions first, even if they are first time exhibitors. Really, I'm not that picky; but I do overlook apps that do any of the following. Copy and paste a public bio from their website or Facebook. IF they read like a marketing campaign. I want to know the what, when, where how and why of your creation. Not that you've been creating since you could crawl. Sloppy photos with distracting backgrounds. Come ON! Our phones have better cameras than the first digital cameras that came out years ago. Plan ahead, make your art look good.
People are deciding if you are worth letting into their show and there are a lot of other artists out there taking professional quality images of their work. Make it happen! You're only going to have to read the instructions/rules once. So do it!
If a booth photo or studio photo is requested, submit it. It could be what makes the difference on whether you get into a show or not! I see it as a lack of respect by not following simple requests and that tends to carry over at the shows. That affects other exhibitors and can even have an impact on our patrons. I work hard to make my exhibitors experience as painless as possible and that starts with a short, direct application. I naturally expect the artist applying to take us seriously by answering a few questions directly and submitting images that are a good representation of their work.
I also allow my artists to help in the curating process. The two most common requests when they're on the fence about an applicant are, studio/work space photos and a better description of the process. This last especially about jewelry.
The one pet peeve we all share, is terrible spelling and grammar, all caps and a general lack of input about the artwork.
Carrie Nardini I Made it Market Pittsburgh, PA
Make sure to research the event before applying to make sure your items are in line with the aesthetic of the event. Visit past event photos on social media and the event website or even better – visit in person. In the case that they aren't contact the event organizer via email not IG or Facebook or Twitter (IMO) and inquire as to how your work fits with the event. If unsure, it is helpful to professionally approach the organizers and to learn if there is one aspect of your work that you can expand on to fit closer to their needs if you are very interested in getting involved and open to constructive criticism.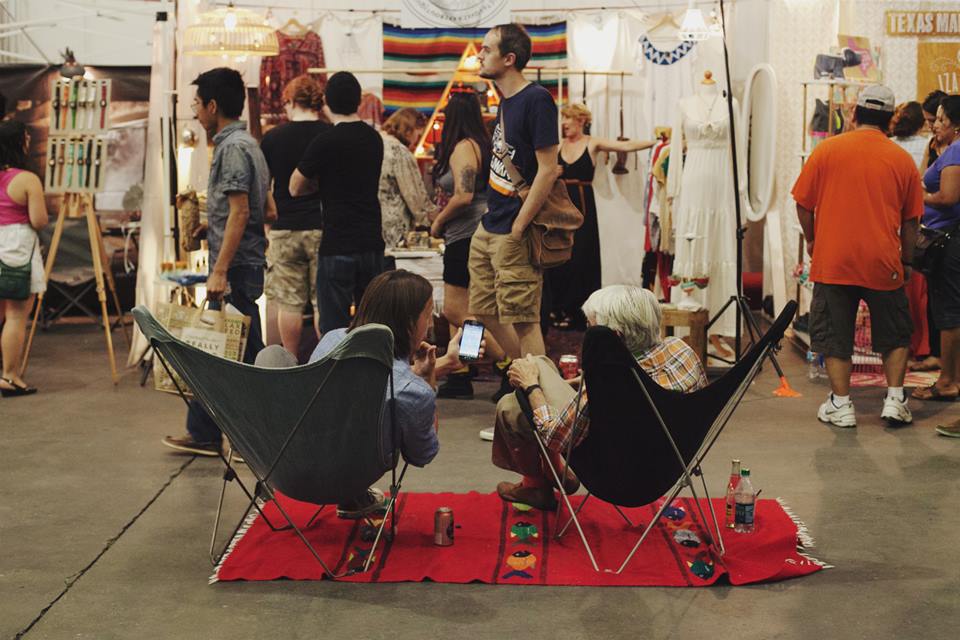 Jinny Suh of Summer Show ATX, Austin TX
We really try to focus on whether applicants are handmade or not. We will accept "handcrafted" or assembled pieces in limited circumstances. For instance, we want to see people uniquely combining elements or using a creative design instead of just putting mass-produced pieces on a loop.
Other than that, we just focus on not oversaturating any categories and making sure there's variety. We also give consideration to whether they can make any money at my show, meaning we look at whether the applicants' items fit the crowd that will be attending. They may be successful, for instance, at an art show, but sometimes my crowds don't want fine art.
Finally, my number one goal for any show is to treat my vendors well. To give them a well organized show where they know I put in just as much effort and thought into their success as they do.
Angela Carranza of Fresh Arts Houston, TX
Quality photos of your artwork is a must! They don't have to be highly styled or professionally edited, but well-lit, uncluttered images that accurately capture your work is key. Have a photo of your branded packaging or a table/booth display (even if its just a mock up)? Include it in your sample images! We want to see anything that gives us a better sense of the type of shopping experience that you will provide to our market's customers. Application Don'ts Don't skip the text sections!! All application questions are there for a reason so take the time to answer each question as thoughtfully as possible. In the event of a tie-breaker, the artist that took the time to explain why their work is unique or how or why it's has strong potential to be accepted over an artist who skipped questions.
Need more tips?
And Check out these:
Great Product Packaging Ideas | Booth Display Inspiration | Rock Your Etsy through the Holidays EBook