–or —
Want to take a craft workshop or art class from Pop Shop America? Visit the workshops button in the menu above. It will take you to all of our bi-monthly craft classes and special events too!
Or want to book a special craft party for your office team building, bachelorette party or kid's birthday party?
Here is the full list of Pop Shop America art classes and craft workshops that we love to teach.
We are happy to bring these awesome activities to your bridal shower, birthday party, or just a gals night out! These workshops are a fun time for any occasion. All of these workshops are about 2 hours in length and can be hosted at your event, makerspace, library, private residence or your chosen location.
We bring all the supplies, materials, and everything you need to create a diy project from beginning to end. Our teachers work with every age group and have a ton of experience to help you make awesome products. These classes are fun and beginner friendly and you'll walk away with professional results.
This is a place where you can browse and brainstorm art classes and craft workshops for your perfect event. To book a workshop, call us anytime, or email us here.
You can also book online in just a few clicks here.
DIY Comic Book Coaster Sets
Use paint and mod podge to make stylish coasters that will make any beverage a lot more fun!
Gilded Animal Ring Dishes
Use mini animal sculptures and gilding to create a little dish! It's the perfect for your keys or jewelry too.
Embroidery Wrapped Bracelets
Wrap wooden bracelets with brightly colored thread for a gorgeous boho look! These bracelets are staple with any wardrobe.
Watercolor Pillows
Make the perfect home accessory! These watercolor pillows have light wisps of color and are remarkably easy to make. This is a workshop where you get to be an artist.
Watercolor Napkin Sets
Would you rather make napkins than pillows? This workshop is similar to the one above but everyone will walk away with a 4 piece napkin set.
Stencil Your Own Welcome Mat
Love tacos and need to show it? Want to tell people at your door to get lost? Well now you can with this awesome stenciling class!
Cactus Rock Garden
Make a mini work of art with this fun cactus garden. This is the perfect cactus for anyone with a black thumb!
Mini Loom and Mini Weave
Make a mini loom out of cardboard and then a mini weave wall art! The size makes it perfect for a small space like your office or a home closet!
Chevron Painting Art Class
Learn the basics of taping sections of canvas and patterning a chevron! It's easier than you think and it's all about created a color color selection.
The Basics of Watercolor
Want to learn the basics of watercolor? It's a gorgeous material that makes lovely illustrations. And it's so fun to work with.
Macrame Wall Hangings
So boho! Wall hangings are so trendy right now but can be kind of expensive. Save some dough and learn how to make macrame for yourself.
Moon Phase Wall Hanging
Use clay to make a gorgeous wall hanging that shows of the phases of the moon!
Origami Paper Craft Class
Learn the basics of papercraft and paper folding in this challenging workshop! Everyone will make cranes and dragons and walk away with the knowledge to follow any origami patterns.
Make Your Own Gemstone Mala Class
Learn the basics of knotting in this workshop that is as much a meditation as it is a craft class! Participants will finish their own mala – buddhist prayer necklace with genuine gemstones.
Block Printing Art Workshop
Use wood blocks to create your own prints! Choose art prints with frames, bandanas, or tote bags! All of them are fun and great way to experiment with color.
Essential Oil Basics
Ever wanted to learn about essential oils? We'll talk about how to blend them to create your own Aroma Therapy Misters and colognes too.
Holiday Stocking Stuffers
Want to make a whole bunch of things but not just one thing? Let's make mini stud earrings, cork coasters, stationery sets, lip balms and more? This is the perfect way to do it all!
DIY Mud Masks
Use yogurt, vinegar, and lots of different types of clay to make your own mud masks set. It's perfect for an at home spa day! We'll learn lots about the ingredients along the way.
Cute Animal Illustrations
Learn the basics of illustrating animals in this stylish and modern art class!
Anime Drawing
Love anime? Learn the basics of how to draw people and animals. This workshop is all about sketching, shaping, and shading.
Build Your Own Hula Hoop
In this workshop, we'll help you choose the perfect size hoop for your height and help you construct it. Then you will embellish it with tape in all of your favorite colors and if we have time we'll even teach you some easy hula hoop tricks! This workshop is best for 10 and up.
Terrarium Building Workshop
Terrariums are indoor container gardens that are easy to care for. We'll bring you succulents, soil, and colored stones and sand. We'll even have cute embellishments that you can add to create a hip habitat for your plants. You'll also learn how to care for your plants when you take them home. This workshop is great for any ages but requires some adult knowledge to continue to care for it.
Gastronomy Experiments Workshop
Gastronomy experiments is made up of 3 parts: tasting the miracle fruit (a berry that coats your sour and bitter taste buds), making ice cream with dry ice, and spherifying liquids. We'll make all 3 and get to eat the results!
Handmade Cocktail Bitters and Extracts Workshop
In this workshop we'll learn to make cocktail bitters, sea salt bends, and baking extracts like vanilla, lemon, and mint. Everyone will get to create take home one of each. But we'll taste them all, especially the cocktail bitters (*wink*) to choose what flavors we want to make. These are delicious kitchen recipes that will change the way you think of food. It's easy and fun to create custom blends with your favorite flavors.
DIY Essential Oil Candles
In this class, we'll decorate glass vessels with paint and then hand pour all natural soy wax to make our decorated vessels into candleholders. Choose from a wide array of all natural essential oils and even learn a little bit how each essential oil is used. Everyone will take away a beautifully and naturally scented candle
DIY Sugar Scrubs and Salves
In this craft class, we'll make an easy exfoliating scrub with sugar and all of our favorite essential oils. We'll also make a salve, or thick and dense body butter, that is perfect for dry skin and winter. This craft workshop will be so soothing. We'll create handmade and all natural beauty products that will make your skin say thank you!
Art Class with Shrinky Dinks
Some shrinkies are printable others can be colored and drawn on. We'll discuss many different techniques to make shrinky dinks and make some stencils and tracings of cool shapes and objects in preparation. Then we'll draw and make our own shrinkies into buttons, brooches, cuff links, earrings and necklaces.

Sun Prints Photography Class
We'll place lots of cool objects like toys, flowers, or feathers, directly on top of special sun print photo paper and then outdoors in the sun. This is one of the most basic types of photo techniques that with sun paper results in beautiful blue cyanotype-like hues. The results are so professional that you will want to frame your pieces after this art class!
Shadow Puppets Art Class
In this workshop, we'll  hand craft shadow puppets from paper. We'll learn about silhouettes and what makes a cool and interesting shadowy shape. This workshop is suitable for any age – even for for adults and at the end of the class, we'll use an overhead projector to have a puppet pageant.
DIY Yarn Pom Poms!
In this workshop we'll make shaped pom poms out of colorful yarn and turn them into burgers, mountains, and other cool objects. All we need is yarn and scissors! This workshop is best for ages 10 and up because it requires a little dexterity. But they results are cool and versatile. You can even make pom poms into headbands, earrings, or embellish a blanket.
DIY Concrete Planters
Using water bottles as the underlying structure, we'll get a little messy and make beautiful vases out of concrete that we mix ourselves! Each concrete planter will be a unique color by adding dye or painting the outside. Participants in this workshop can use gilding or keep the outside a minimal gray. This craft workshop requires nearby sinks and is best for outdoors. It's best for 8 and up because it can be messy.
Hand Embroidered Notebooks
In this workshop learn the basics of sewing with a "connect the dots" like approach to embroidering a notebook. This craft workshop is truly creative because you get to create and draw your own image that will be the notebook embroidery. Gather your thoughts, take notes and works, or use your notebook as a journal. The possibilities are endless!
 
Felt Animal Masks
This craft workshop is the perfect prep for Halloween or any costume party! We'll make animal masks that don't require any sewing – just carefully hand cutting and layering pieces of felt. You can even choose between woodland creatures masks, superhero masks and more. These felted masks are a lot more comfortable to wear than regular plastic masks and are beautiful enough for adults to want to wear them too!
Confetti Pops + Hand Stamped Wedding Favor Bags
At this wedding DIY workshop, everyone will make confetti pops a beautiful and safe way to make an exit at a wedding. You will be able to choose from lots of different colors of confetti or match the colors to your wedding colors. With hand stamped wedding favor bags we'll embellish and personalize muslin bags the perfect container for wedding favors like candy that you could place on your dinner tables. These workshops will help you hand create useful items for your wedding.
Wooden People Wedding Cake Toppers
Although this craft workshop is ideal for weddings, it's also an equally fun way to make a unique family portrait or mini sculpture of all your best friends. This workshop is all about learning to make tiny painted sculptures of yourself or someone you know by using bold blocks of color and simple lines to make a sweetly formed 3D illustrations. We'll even use polymer clay to add hair buns on ladies or tiny ears on kitty cats.

Dried Flower + Stamped Muslin Bags
This workshop is perfect for a handmade wedding! We'll hand stamp muslin bags with hearts, your initials, or a cool image and then fill each bag with beautifully and fragrant dried flowers. This is a great way to make an exit without dangerous rice or painful bird seed. And it makes a lovely party gift for all of your guests.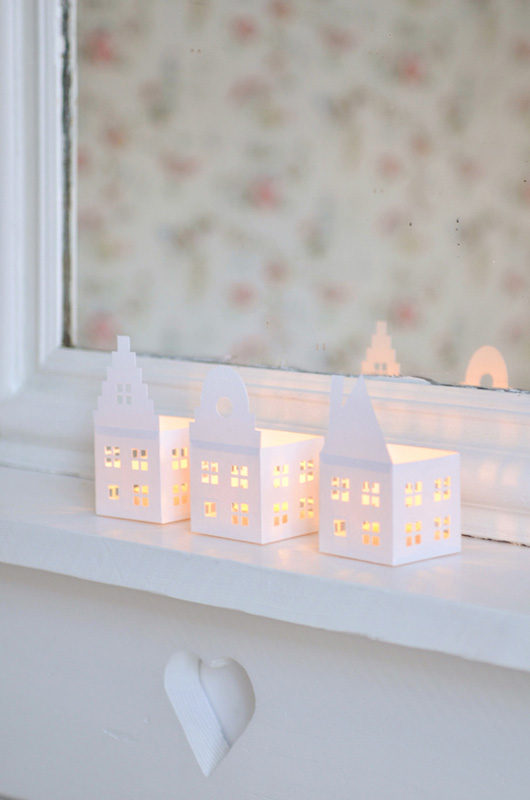 Paper Lanterns Craft Class
In this art class, we'll hand cut paper into lots of different patterns (my favorite are the houses shown here). Then fold the paper into a vessel and add a candle. These are a beautiful way to light up any room and a fun way to learn paper crafting techniques and cutting techniques. This art workshop requires dexterity that is best for older kids or adults.
Felted Stuffed Animals
In this craft class we'll do a little bit of hand sewing with felt to create all kinds of super cute critters. We'll even stuff them with fluff. This workshop is really versatile and for a more modern or adult approach to this think mini pillows in hearts and stars. Whatever your favorite critter or shape, this craft workshop will give you something cute to keep for a lifetime.
Zines and Handmade Books Art Class
Interested in Zines? In this craft class, we'll learn how to layout a book without getting the pages all jumbled and some different techniques to bind your book. Everyone will make their own handmade book using cut outs, collaging, drawings, and writing. We'll look at Pop Shop America's zast Zine Collection for inspiration too!
Embossed and Hand Stamped Greeting Cards
This craft workshop is perfect for any holiday. We'll learn some techniques to make perfect stamped cards and use a heat gun to emboss them. You could even make your own stationery or gift tags. This workshop is a fun approach to creating professional looking crafts in a snap and it's fun for kids and adults too.
Gilded Animals Craft Class
With silver and gold gilding we'll turn dinosaurs, unicorns, and jungle beasts into candles, placecard holders, ring dishes and so many other creations. Gilding is easy and turns objects into beautiful and versatile art. This craft is especially useful for home decor or party decorating.
Fresh Flower Crowns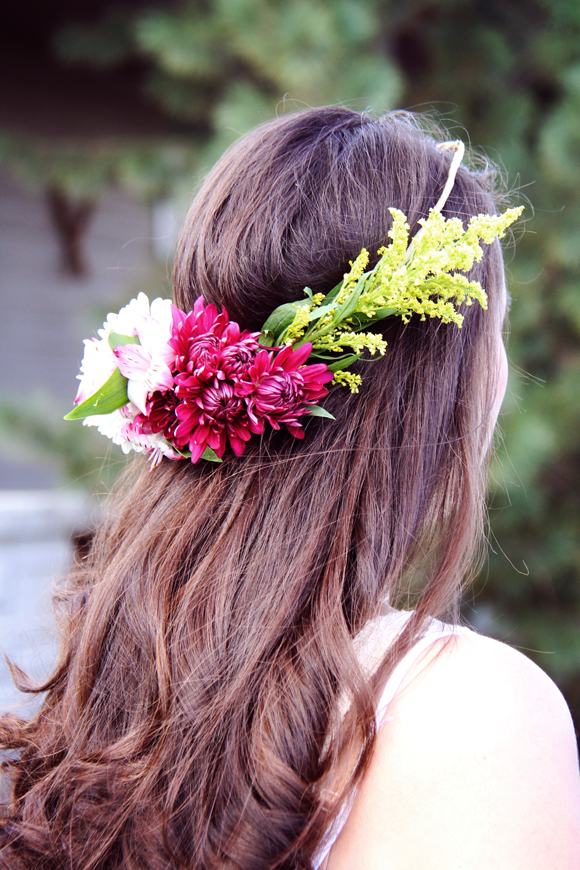 Faux Flower Crowns
This workshop is perfect for a bridal shower or party for pint size princesses. In this workshop we'll make stylish headbands and crowns out of faux flowers. Make an elaborate one with ruby roses like Frida Kahlo or make once out of tiny white daisies that blends in with the hair.
Make Your Own Leather Accessories Workshop
In this workshop we'll make shaped earrings from black, brown, gray and tan leather. Layer them, cut them, and learn how to put them on jump rings and french hooks so you can wear the earrings you create. We'll have lots of leather earring examples to inspire you.
No Sew T-Shirt Alterations Workshop
In this workshop students need to bring their own t shirts for the best results. We'll bring some as a demo and for practice. Learn basic cutting techniques to make embellish and alter t shirts. In this workshop we only use cutting and fabric glue – no sewing machines needed!
Photo Magnets and Pendants Workshop
In this workshop we'll make use of your family photographs by turning them into magnets and pendants. Be sure to bring your own vintage or family photos. We'll bring pendants, magnetic backing and lots of know how so that your memories can last a lifetime.
Photo Credit: Thistlewood Farms
Glass Etching Craft Class
In this workshop, we'll use an array of stencils to make a etched pint glass or highball glass. Monogram initials, add a mustache or the words "thank you" to make a glass perfect for all kinds of occasions. This workshop using materials that can be harmful to the skin and thus requires the participant to be 14 and up.
Make Men's After Shave and Salve Class
In this workshop, make men's products with just a few simple eco friendly ingredients and essential oils. These products won't leave anyone shiny or glossy. This will make a perfect gift or something that you'll want to keep for yourself.
Wall Mounted Mason Jar Planters
With just a few simple tools like mason jars, wood, and screws, we'll create a mountable set of mason jars that are so versatile. Use them to hold plants as an indoor container garden or to hold keys next to your front door. You can use these wall mounted mason jars anywhere. This workshop is best for adults or kids with supervision since we'll be working with a drill and screws.
Photo Credit: Simple Life Istanbul
Marbled Clay Dishes
Make a swirled wonderland of beautiful colors in this workshop perfect for any age. We'll use polymer clay and roll it with tons of cool colors to make a beautiful blend. It only takes a few minutes to bake the clay so you will walk away with a completely finished spoon rest, ring dish, or cup for your night stand.
Kawaii Accessories Workshop
Learn to Make Kawaii Style Accessories! Pop Shop Craft Workshop is a Japanese cute overload. We'll have tons of kawaii style cabochons and beads to make fun stuff for guys and gals.
Choose between making: necklaces, key chains, cufflinks, earrings, bracelets and more. Everyone will get the instructions and materials to make several different kawaii style accessories – with cute happy faces, cake slices, hearts, and lots of bright colors.
Marbled Coffee Mugs and Kitchen Towels Workshop
learn to Make Your Own Marbled Coffee Mugs and Marbled Kitchen Towels!
Craft Workshop is a swirl of color and is easy for beginners to get professional results. We'll have lots of colors to choose from and everyone will get to make a set of coffee mugs and a set of dish towels with a swirling marble dye technique.
Photo Credit: Persia Lou Handmade Modern
Gel Medium Photo Transfers Art Class
In this workshop, we'll use a DIY printmaking technique to make beautiful art that you can hang on your wall. This technique uses regular copy paper images – in color or black and white – on a beautiful wood block. Gel Medium Transfers are fun easy and leave you with gorgeous and modern results.
Photo Credit: Serendipity Refined
Learn How to Make Seed Bombs Class
This craft workshop is perfect for spring! We'll make seed bombs with herbs, flowers, and all of your favorite plants. We'll learn how to sprout seeds and make both paper and clay mixes for our seeds. With molds, we'll also shape our seed bombs into beautiful giftable items.
Make Your Own Dreamcatcher
In this craft workshop, get an array of really cool supplies like wood beads, feathers, and gemstones to decorate a really cool dreamcatcher. We'll also show you several techniques to weave the interior thread and even place the "spider" a symbolic bead that goes on the inside of dreamcatcher around the thread.
Magic Wands Workshop for Kids
In this art class make a wand with faux leaves, rainbow ribbon, gemstones, or one with puffy clouds or stars. There are so many ways to create them because there are so many different people who need a wand like princesses, faeries, and wizards just to name a few. This craft workshop is great for kids and will put magic in the air.
Paint & Gild Your Own Stylish Planters
In this workshop, we'll etch, paint, tape, and decorate simple terra cotta planters. The results will be modern, cool, and unique planters that make every plant into a focal piece.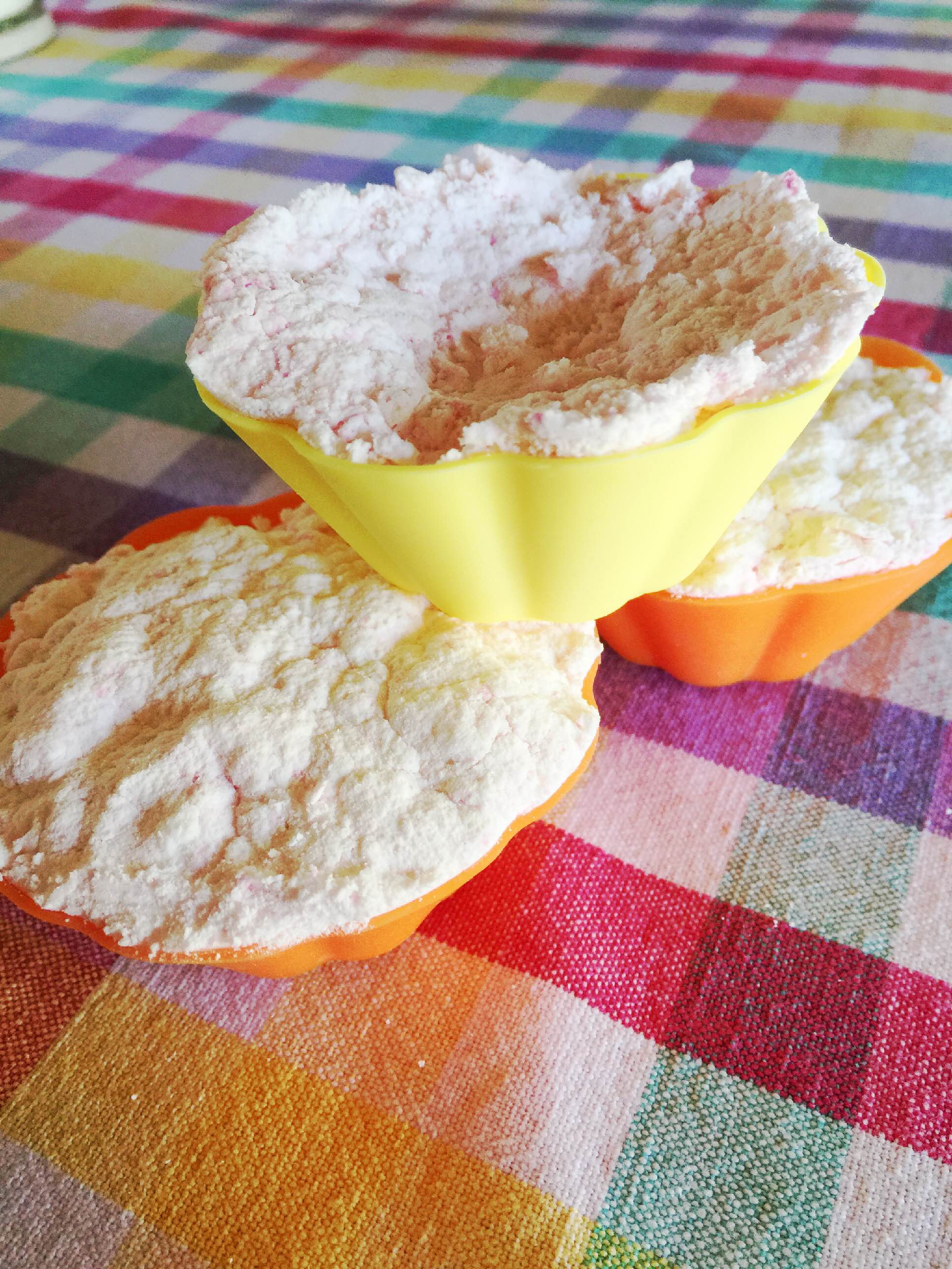 DIY Lip Gloss and Fizzy Bath Bombs
This craft workshop is a DIY beauty bar. We'll create handmade lip gloss with all natural ingredients and essential oils in any of your favorite flavors. The DIY Fizzy Bath Bombs are so fun too. With just a few simple ingredients, you'll see how easy it is to make luxurious and beautifully scented body care products.
DIY Marbled Stationery
This craft workshop is a swirl of color! Use food coloring, fabric paint, and shaving cream to swirl colors and create a marbled pattern on paper. We'll make these marble painted beauties into writing paper and envelopes. They will be so beautiful you will want to frame it.

Business Workshops:
Intro to Etsy
Intro to Shopify
Intro to WordPress
Intro to Google Analytics
Basics of SEO
Social Media Hacks
How to Use Email Marketing
Didn't see the workshop you wanted? We can custom create a new one just for you.
All of these craft workshops are available to schedule for your kids birthday party, bachelorette party, or office team building function.  To book a workshop, call us anytime, or email us here.
We bring all the supplies, materials, and everything you need to create a diy project from beginning to end. Our teachers work with every age group and have a ton of experience to help you make awesome products. These classes are fun and beginner friendly and you'll walk away with professional results. All of these workshops are about 2 hours in length and can be hosted at your event, makerspace, library, private residence or your chosen location.