Looking for an easy way to elevate all of your desserts? You must make this Simple Graham Cracker Crust Recipe! It's soooo much better than store bought and gives your desserts that fresh buttery flavor that's impossible to resist.
Best of all, you can add additional ingredients, like cinnamon, to give your graham cracker crust a little twist!
So let's get to making it! And if you want the easy printable recipe card, scroll straight to the bottom.
Ingredients to Make a Graham Cracker Crust
Making a graham cracker crust is simple because all you need are fresh and crunchy graham crackers, a small amount of white sugar, and butter. Both salted or unsalted are just fine for this recipe.
Other Ingredients You Can Add
In addition to the graham crackers, sugar, and butter, you can add lots of ingredients to give your pie crust that extra oomph! Here are some ideas:
1 Tbsp. Ground Cinnamon
2 Tbsp. Cocoa Powder
1 Scraped Pod of Vanilla Bean
Pinch of Orange Zest
How Fine Should You Grind Your Graham Crackers?
In general, I like messy and delicious Southern Desserts. So it's always been tempting to try to make a chunky or slightly uneven graham cracker crust. Unfortunately, it doesn't work. Your graham crackers should be fine ground and perfectly consistent. The most important thing is to have a grind that's perfectly even.
Once your graham crackers are ground, it's time to add your sugar, melted butter, and any additional ingredients! Blend these ingredients until your graham cracker crust is a seamless mix.
When adding melted butter, make sure that the butter is not hot! It's always best to add barely melted and luke warm butter.
Now it's time to press your graham cracker into their crust. You don't need to coat the pan as the butter will prevent the crust from sticking.
The important thing is to make sure your crust is even along the bottom and even along the sides. If you have trouble pressing into the space where the bottom and sides meet, you can try using a butter knife because it's a blunt utensil that is smaller than your fingertips!
How to Bake Your Graham Cracker Crust
Your Graham Cracker Crust is more delicious when it's baked. And it holds together better too! A baked crust will hold the pie in place longer without becoming mushy and sinking.
The time may vary a bit but is usually between 7 to 10 minutes.
You can even bake a premade graham cracker pie crust too! Just brush the surface with melted butter and follow these same instructions.
Simply bake your graham cracker crust on the middle rack at 375°F until golden brown.
You can even bake your pie crust for slightly less time – until it just has a hint of golden brown. Baking it for less time is perfect for desserts that are put back in the oven to bake the filling (like this Mojito Key Lime Pie Recipe here.)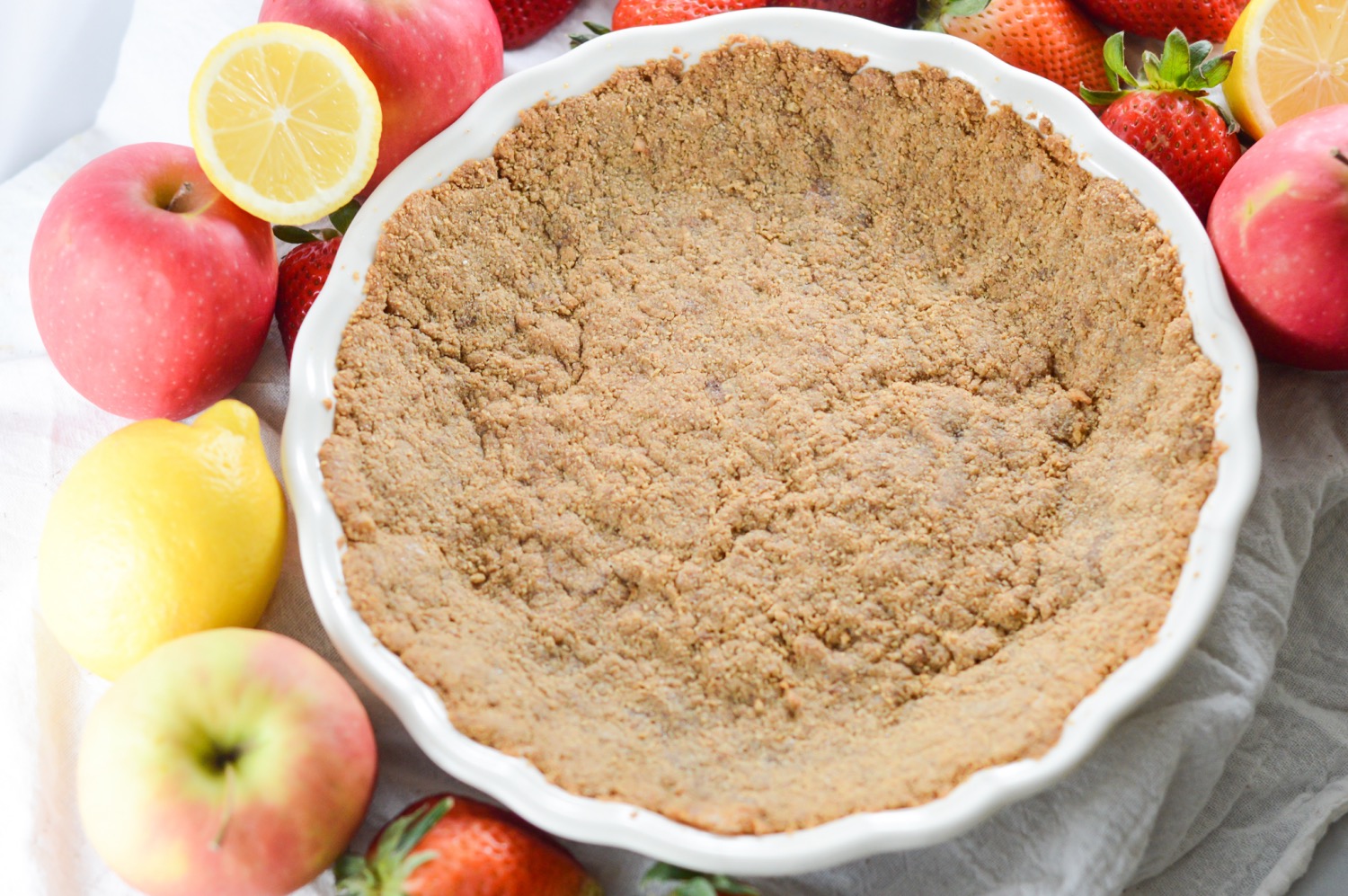 How to Use Your Graham Cracker Crust
Graham cracker crusts are perfect for so many different types of desserts. You could make cookie bars in a square pan that have a chocolate chip cookie filling.
Or you could make an array of cream pies like strawberry or lemon ice box.
And graham cracker crusts are perfect with cheesecakes too. So what are you going to use your graham cracker crust to make? Tell us in the comments!
Simple Graham Cracker Crust Recipe
This Graham Cracker Crust is perfect for all kinds of pies, bars, and other delicious desserts! Making it from scratch makes it impossible to resist!
Ingredients
14

Graham Crackers

double squares

⅓

Cup

Melted Butter

2

Tablespoons

Sugar
Instructions
Preheat your oven to 375°F.

Place your graham crackers in a food processor and pulse until they're reduced to fine and even

crumbs.

Add the graham cracker crumbs to a large bowl.

Then add your sugar and melted butter to the graham crackers and mix thoroughly. Cinnamon is optional!

Once your crust mix is evenly blended, press it into a 9-inch round pan.

Add a thin layer to the bottom and to the sides as well. Be sure the crust is even across the surface.

Bake for 7-10 minutes, or until lightly golden brown.

Remove from the oven and allow the graham cracker crust to cool before using.
Let's Be Friends!
Insta | Pinterest | Enews | TikTok