The architecture of Antoni Gaudi is the reason I lusted after travelling to Barcelona for so long.
It was my second year of studying design at Ryerson University, so of course, we studied Antoni Gaudi and all the stunning work that he's done in Barcelona. I fell in love with the mosaic chimneys and undulating facade of Casa Milà, the skeletal balconies of Casa Batlló, and of course, the awe-inspiring interior of La Sagrada Familia.
So, when I decided that I wanted to go on my first solo trip, Barcelona and Antoni Gaudi were at the top of my list. I found a super cheap flight and then extensively planned my trip so that I'd be able to see each of his glorious creations.
It took me months of planning to pull together everything that I wanted to do in Barcelona, so I've shared the link to my map here.
I'm a HUGE fan of making my own google maps and tell literally every single person I know about how amazing they are and how much I enjoyed making one for my trip to Spain. I've since made several others just for fun because I love doing the research and collecting all my findings in one place. I plan on taking all of these trips eventually, just need the time!
Anyways, back to Gaudi.
After all my planning, I felt super organized and was incredibly excited to see everything that I had studied in person. If you're heading to Barcelona, make sure that you check out all of the stunning Architecture of Antoni Gaudi!
Casa Batlló
Gaudi was largely inspired by nature and anatomy, which is evident in the facade of Casa Batllo. The balconies look quite skeletal and are complemented by the natural, organic forms of the windows. To top it all off, the roof mimics the back of a dragon or lizard, with the humped shape and roof tiles that look like scales. I didn't actually go in Casa Batllo, but seeing it from the outside was awe-inspiring enough for me. Seeing the balconies all lit up at night also gave the apartment a very eerie glow. Casa Batlló is also nestled right in between other buildings on the very busy Passeig de Gràcia, so I was slightly surprised when I was walking trying to find my Airbnb and I just stumbled upon it. It's very different from La Sagrada which takes up an entire square block on its own.
Casa Milà (La Pedrera)
I actually went into Casa Milà and I am SO glad that I did. I remember studying the chimneys on the roof and was just dying to get up there, so going into Casa Milà was a top priority. For this apartment, I bought my ticket the day of and had no issues with long lines. I did go in September, which is the offseason, so I would expect a longer wait time in July or August.
Like a lot of museums and historical sights, your ticket comes with a headset that allows you to go on a self-guided tour, which I much prefer. You can move around at your own pace and can actually hear the information that's being presented. I guess the only downside is that you become a bit more segregated from everyone else that's in the building. Guided group tours encourage more interaction between people.
I toured through the entire place, noting all the gorgeous floors in the living quarters and thoroughly enjoying all the objects that they had on display in the attic that outlined Gaudi's process and inspiration for the building. It's amazing how he looked at a piece of seaweed and was so inspired that he modelled the wrought iron of the balconies based on that shape. So gorgeous!
By far the best part of Casa Milà is the roof. There are so many interesting features up there, from the mosaic adorned stairwell towers, to the curvilinear ventilation stacks and the chimneys that have often been compared to the helmets of stormtroopers. There are several sets of stairs on the roof which creates a constant up and down and contributes to the flowing shape of the space.
One of my favourite things about the roof of Casa Milà is that you can look through one of the arches connected to a stairwell tower and you see a perfect view of La Sagrada – it's crazy!
La Sagrada Familia
Known at Antoni Gaudi's magnum opus, La Sagrada is truly breathtaking. Standing at the base of the towers looking up, it's unbelievable how intricate the design is.
In my planning, I did find out that you should try to get tickets in advance for la Sagrada. I wanted to be able to go up the towers and wanted to ensure that I'd be able to go in on the day that I wanted, so I purchased my ticket in advance. It's slightly frustrating to have to pick the time slot that you want to go in, but I managed to make it to mine with no issues. You can buy your tickets for La Sagrada here.
I did a self-guided tour of La Sagrada as well and in this instance, I really did enjoy being able to listen intently to the recording and experience La Sagrada on my own.  The tour starts outside and explains all the figures that are carved on the Nativity facade as well as the incredibly ornate carvings on the doors. Jesus is, of course, the central theme of the entire cathedral with additional inspiration being drawn from nature, as is customary of Gaudi.
The tour then takes you inside the cathedral and talks about the various stained glass windows and of course, the towering ceiling held up by a forest of pillars. I know there are people who have cried upon seeing this, and while I didn't tear up, I did get chills and just had to sit down to take it all in.
The tour ends with the passion facade, which I think is actually my favourite. The stone arches on the exterior resemble a skeleton and I believe, were actually inspired by ribcages.
Halfway through my tour, it was actually my scheduled time to go up one of the towers. I chose to go up the tower that faced over the nativity facade. The view was very pretty from the top, but if I were to go again (which I definitely plan on doing when the cathedral is finished) I wouldn't bother with the towers. The staircases were also incredibly steep going down, and a little scary to be honest with no guard rail haha
Casa Vicens
I wasn't actually able to go into Casa Vicens when I went to Barcelona, as it was under construction, but it is now a museum and UNESCO world heritage site, so it's something that I'd love to see when I go back. I did get a few shots of the exterior of the building and even that was very cool to see as it's covered in colourful mosaic tiles. This was the first house that Gaudi designed, so I'd love to go back and look inside and see how it compares to Casa Milà and Casa Batlló as I plan on going inside as well on my next visit.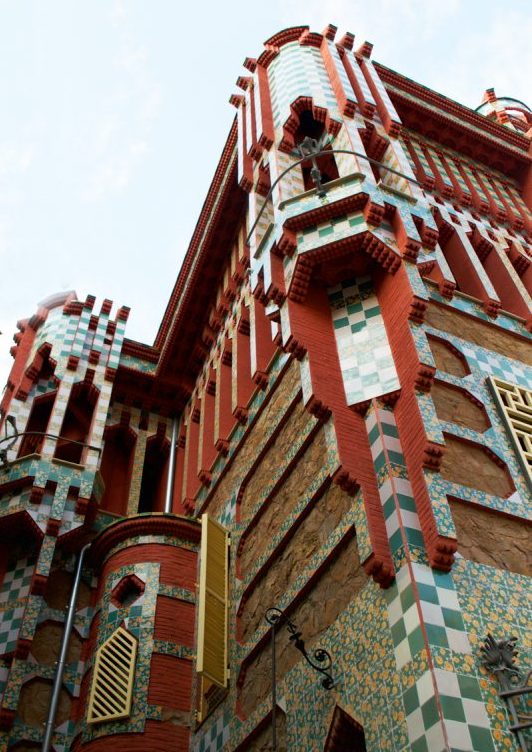 Park Güell
Park Güell is as delightfully colourful as La Sagrada is awe-inspiring. It's so colourful, bright and wonderfully whimsical with the majority of the park being covered in colourful mosaics. It seems like I had a bit of bad luck on this trip with a lot of the works of Gaudi being under renovations when I went. Most of the nature square was under construction when I went, so there was only a small section open to the public and as a result, it got very crowded. I would have loved to have stayed for longer if there weren't so many people vying for photos in the small space. Similar to La Sagrada, you do have to buy your tickets for Park Güell in advance and there is a set time that you have to enter the historical area of the park. While you're waiting there are multiple other paths and areas to explore, which I did without hesitation. If you entered the park well before your scheduled time to enter the historical zone, you could explore the gift shops, which resemble perfect gingerbread houses, or you could visit the Gaudi House Museum (where Gaudi actually lived for a time!) which is the lovely pink building located in the park.
The only other Antoni Gaudi designed building that I didn't go into is the Palau Güell. I don't remember studying it in school, thus I wasn't that excited about seeing the interior/taking a photo, but if you have a lot of time, or are a bigger Gaudi fan than me, consider checking it out!
I highly recommend putting as many of Gaudi's buildings on your Barcelona travel list as you can! They are truly beautiful and not to be missed!
Let's Stay Friends!
Insta | Pinterest | Enews | TikTok