This is Part 3 of 3 of the Craft in Style Subscription Box Instructions for January 2021. Find the Craft in Style Subscription Box here. Read Part 1: The Easy Beginners Guide to Weaving with a Loom. Read Part 2: How to Make a Yarn Wall Hanging here.
Falling in love with weaving? I sure am! It's such a gorgeous mix of modern and traditional crafts. It's full of soft textures and endless amounts of patterns. If you have recently gotten your own loom welcome to the exciting world of weaving! And if you have been weaving for some time, I hope to share some new ideas and inspiration.
Weaving is one of those crafts that is so versatile – you can make so many different things. And you can use any colors that you love. So every weaving project can be so different from the last! So here are my favorites – 9+ Stylish Weaving Projects You Can Make with a Loom!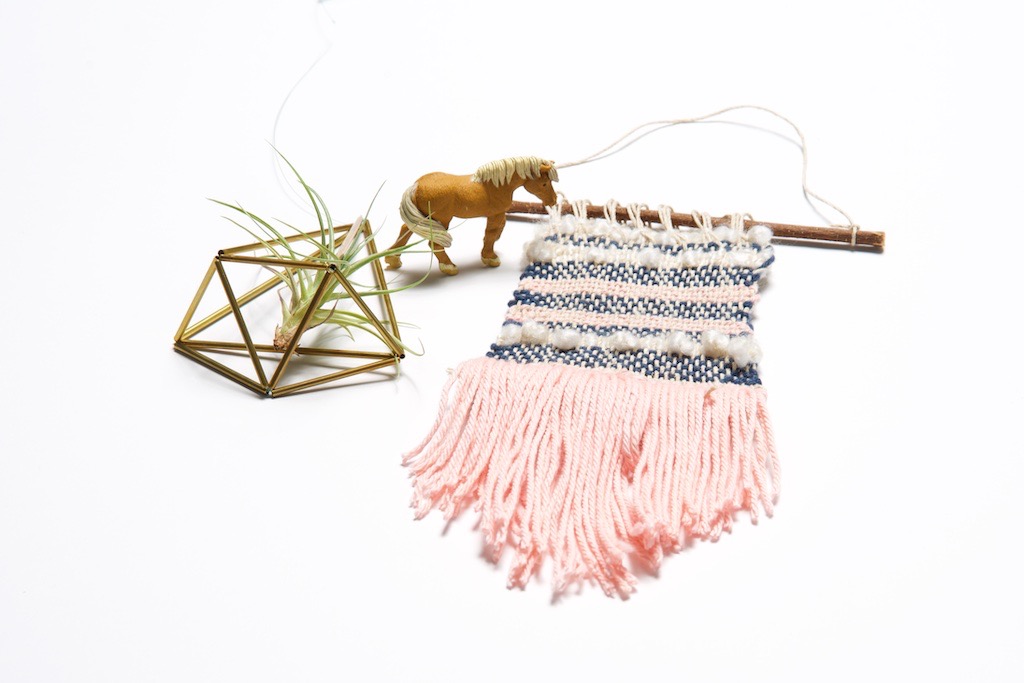 Of course, making a wall hanging is a must! It's a super stylish way to display your weaving skills and is oh so fun to make. I used a raw wood twig as a hanger which is a fun twist for this project.
It's easy to use a simple tabby weaving pattern while making a wall hanging and focus your style choices for which yarn – the color and texture you use. Which makes it a great project for any skill level.
Jewelry is such a cool way to make and wear small woven projects. Starting with a small weave, like a piece of jewelry, is ideal because the larger the object – the longer it will take. That makes this DIY Woven Necklace one of the faster projects on this list. You can even weave gorgeous beads and gemstones into it to make something both cool and upscale.
Learn how to begin to pattern with these easy to make coasters. This tutorial will take you step by step through creating the triangle shown here in teal. Best of all, the finished coasters are perfect to show off at a party. Or you can give them as a gift to your favorite hostess.
Love the idea of coasters but want something bigger? Then how about these gorgeous woven placemats. I love the color palette chosen here – but of course you could choose your own colors too!
Now this is a weaving project that's as functional as it's stylish! All you need is to make two weavings on a loom and sew the sides together to make a bag. Attach some tassels to the bottom and add a long strap to be able to wear it. How dreamy!
Now you don't need to make your bag purse size – you could also make a bag that's small.
Think – something to hold your pens and pencils or something to hold your cell phone. Remember the smaller the project the faster it will come together which is perfect for anyone just starting out with weaving!
This woven pillow may be slightly too big for the loom that we've used in our other projects, but you could make this pillow any size – big or small! This woven pillow evokes a global worldly style that makes a home feel really unique. This pillow has a style that feels tribal and cool.
Now these dish towels may look simple – but you would believe how detailed this pattern is! It's a great way to get your feet wet with a weaving pattern that's advanced. Dish towels are a perfect craft to weave because they can be used everyday.
Woven Keychains & Earrings
Now here's where you are going to have to start using your imagination. There's no tutorials for these keychains and earrings, but aren't they just dreamy? After checking out all these other tutorials, do you think you are ready to start making your own woven projects without instructions?
Remember – it all comes down to size, shape, and color. So once you've learned the basics of weaving, the sky is the limit. You can make anything that's woven! Ready to give it a whirl? Then don't miss out on our DIY Loom Kit here.
And if you make any of these projects, share them with us so we can see what you made!
Let's Stay Friends!
Insta | Pinterest | Enews | TikTok