What to do with those brown bananas? How many times have you thought that! I was lucky that I learned this recipe when I was a little kid from my Mom. I've been enjoying exactly the right dish for too ripe bananas my whole life!
This Mom's Homemade Banana Bread Recipe is so easy to make and remarkably delicious. I'm so intimately connected with this recipe that in my early twenties, I spent several years trying to change this recipe – add a little honey, replace the cinnamon with pumpkin pie spice, I tried everything. The funny thing was, every time I changed the recipe, I only made it worse. I never made it better. 🙁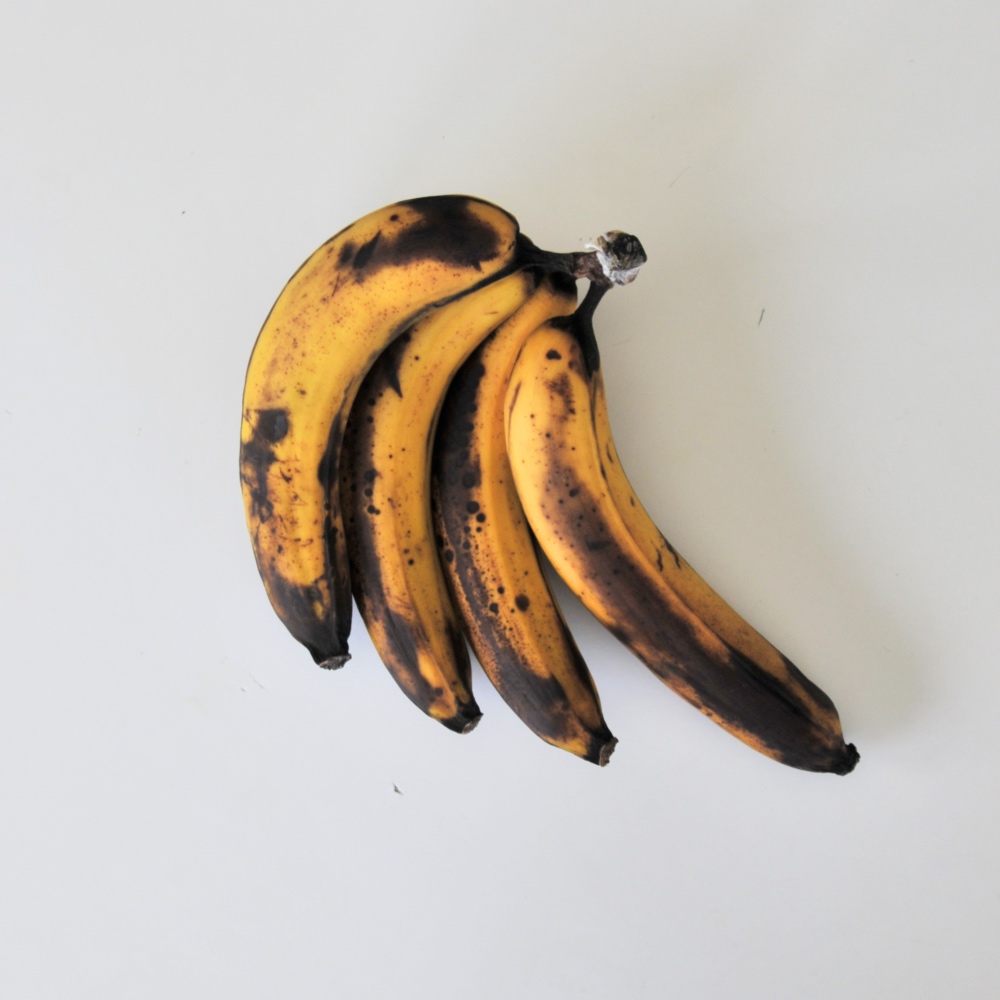 To make this banana bread, you must use bananas that look like this! Never use yellow or green bananas. The bread will not be moist enough and the flavor will be bitter. Bananas sweeten as they ripen and that's part of what makes this recipe work.
Another important component of this recipe is sifting the dry ingredients. It's imperative. The flour needs to be soft and light and the spices and baking soda needs to be well mixed. This is one of the only recipes in which I use a mixer. If you don't have one, try a fine mesh colander and just bang it against your hand to help the flour and spices fall through.
Your batter only needs to be blended – just like you would brownie mix. It doesn't need to be whipped. So I just used a wooden spoon to blend the ingredients. It will be lumpy and funny looking. Although you should always be cautious eating raw eggs, this batter is the most delicious to eat raw! It's so tasty.
Make sure you turn your Mom's Homemade Banana Bread 180° half way through the cooking time so that both sides get the right amount of heat. This will help your Mom's Homemade Banana Bread fluff perfectly and evenly in the center.
Mom's Homemade Banana Bread Recipe
This Mom's Homemade Banana Bread is totally easy and oh, so delicious!  It's the perfect recipe for bananas that are overripe.
Ingredients
1

cup

White Sugar

1/2

cup

Softened Butter

2

Eggs

1

teaspoon

Vanilla Extract

2

cups

All Purpose Flour

1

teaspoon

Baking Soda

1/2

teaspoon

Ground Cinnamon

1/2

teaspoon

Ground Cloves

3

crushed Bananas

1/2

cup

Chopped Pecans
Instructions
Preheat your oven to 325 degrees F, and grease a large loaf pan or 2 small loaf pans.

In a bowl, combine your sugar, softened butter, eggs, and vanilla extract.

In a sifter, combine your flour, baking soda, cinnamon, and cloves.

Sift your dry ingredients and blend thoroughly with your moist ingredients.

Peel your bananas and smoosh thoroughly with a fork.

Blend thoroughly in your batter mixture.

Add your batter your loaf pan and sprinkle with chopped pecans.

Bake for 50-70 minutes until golden brown and completely dry on the inside.
So what should we pair with this Mom's Homemade Banana Bread? I love it plain and simple – warm with butter. You could also add fresh bananas and honey to make it breakfast perfect! I've also seen it paired with a light whipped cream cheese frosting (just add whipped cream to the cream cheese frosting to lighten it up.)
And viola! It's perfect anytime and any season and is the best use of overripe bananas.
Let's Get Cooking!
Savory Herb Drop Biscuits | Spicy Gingersnap Cookies | Vanilla Bean Blueberry Muffins
Let's Stay Friends!
Insta | Pinterest | Enews | TikTok